Chris Ciovacco: Central bankers have provided liquidity with today's announcement; it does nothing to address the real problems of solvency in Greece, Italy, Spain, etc.  (not to mention the banks).  In the last bear market, stocks rallied significantly after similar announcements (numerous times) only to see 100% of those gains evaporate once reality set back in.  Note the last line in the Bloomberg excerpt below:
"It is about protecting the liquidity of the European banks," Howard Ward, a money manager who helps oversee about $436.1 billion for Gamco Investors Inc. in Rye, New York, wrote in an e-mail. "The private sector has pulled back from funding these banks. So central banks are stepping in to make that dollar funding available. Good news is the banks get their dollar funding. Bad news is that the situation has gotten this dire."
If you review the monthly charts of the S&P 500 (NYSE:SPY) during the last bear market (below) and the current chart of the Euro Stoxx 50 Index (2nd chart), the answer appears to be "just getting started."  It should be noted that bearish signals on monthly charts are more important than those on a daily or weekly chart.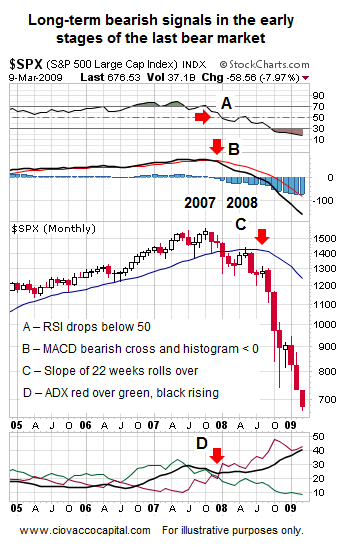 Compare points A, B, C, and D in the chart above to A, B, C, and D in the chart below. It can be expensive in the longer-term to ignore the facts on these charts.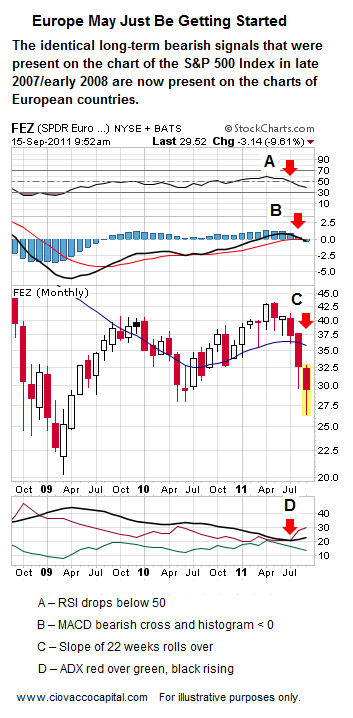 As a money manager, you are always nervous relative to the question, "Am I missing something?"  To help answer that question, last night we reviewed all 223 weekly charts for the most liquid ETFs included in the CCM Asset Allocation Model (AAM).
There is next to nothing on the weekly charts to suggest the market has found a permanent bottom.  Could stocks continue to rally, even for a few weeks?  Sure, but the odds say the gains will be fully retraced in the coming months.  The list below speaks volumes about the current outlook for the markets from a longer-term perspective.  Our review of the charts was done in such a way as to bend over backwards looking for bullish signals – they are just not there,  nor does it look like they will evolve from the current rally.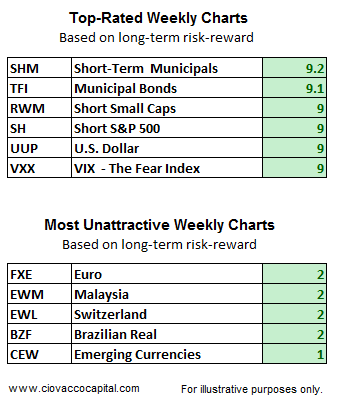 Our objective is to be properly positioned over the next three months to a year, not the next three days to three weeks.
Related: SPDR S&P 500 ETF (NYSE:SPY), iPath S&P 500 VIX Short-Term Futures ETN (NYSE:VXX), SPDR EURO STOXX 50 ETF (NYSE:FEZ), SPDR Nuveen Barclays Capital S/T Muni Bd (NYSE:SHM), CurrencyShares Euro Trust (NYSE:FXE), ProShares UltraShort Euro ETF (NYSE:EUO).
Written By Chris Ciovacco From Ciovacco Capital Management, LLC
Chris Ciovacco began his investment career with Morgan Stanley in Atlanta in 1994. With a focus on global macro investing, Chris uses both fundamental and technical analysis to assist in managing risk while looking for growth opportunities around the globe in all asset classes. If you are looking for an independent money manager or financial advisor, Ciovacco Capital is worth a look. Chris graduated from Georgia Tech with Highest Honors earning a degree in Industrial and Systems Engineering in 1990. His experience in the professional ranks began in 1985 as he began working as a co-op for IBM in Atlanta.
Ciovacco Capital Management, LLC (CCM) is an independent money management firm serving clients nationwide. By utilizing extensive research, disciplined risk management techniques, and a globally diversified approach, CCM prudently manages investments for individuals and business owners. Our focus is on principal protection and purchasing power preservation in an ever-changing global investment climate.