McDonald's Corp. (NYSE: MCD) stock has been trading near all-time highs recently. The McDonald's stock price reached an all-time high of $105.20 last Thursday, with shares closing Monday at $104.49.
But the Oak Brook, Ill.-based company has suffered seven straight quarters of same-store sales declines – a streak that might get extended on Thursday when we get the Q3 McDonald's earnings.
Analysts expect a year-over-year 8.1% decline in revenue for Q3, and earnings per share estimates have been revised downward from $1.31 to $1.27 over the past 90 days.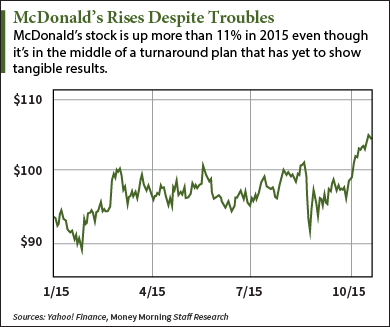 Meanwhile, the once mighty McDonald's brand is looking stale and tired, particularly next to competitors like Shake Shack Inc. (NYSE:SHAK) and Five Guys. Rivals like Panera Bread Co. (Nasdaq: PNRA) are luring people away with healthier offerings.
Management has responded with restaurant makeovers to make the chain look more upscale, and a series of menu experiments did more to confuse customers than to attract them.
And yet MCD stock is up 11.6% for the year – far outperforming the 1.5% decline in the Standard & Poor's 500 Index.
The reason McDonald's stock has done so well is investors' faith in the turnaround plan of CEO Steve Easterbrook, who took over as chief executive of McDonald's in February.
Easterbrook has promised to simplify the McDonald's menu, drastically reduce the number of company-owned restaurants, cut costs, and reorganize the company. In September, McDonald's launched its all-day breakfast as well.
Either impressed with Easterbrook's plan or cooking up plans of their own, activist investors also have jumped on McDonald's stock. Out of the 50 funds on FactSet's "SharkWatch50" list of the top activist investors, 15 held McDonald's stock as of June 30.
That's a lot of activist investors. And at least one has already made a push for radical change that he says would drive up the MCD stock price.
Back in March, Larry Robbins of Glenview Capital Management, which owns 2.9 million shares of MCD stock, proposed the company spin off its real estate holdings into a REIT (real estate investment trust). Robbins calculated such a move would push McDonald's stock to $169.
Nevertheless, McDonald's stock is anything but an obvious buy. Here's why investors should keep their distance from MCD stock for now…
Why McDonald's Stock Isn't a Buy Right Now
One key problem with McDonald's stock touching an all-time high now is that the fate of the turnaround plan remains unclear.
Only the conversion of restaurants from company-owned to franchise-owned looks like a definite winner. The other changes… not so much.
For example, the popular all-day breakfast could end up doing more harm than good.
"While the all-day breakfast menu may be bringing people into the restaurants, it's creating havoc in the kitchen – lack of space, conflicting ingredients, staffing, and longer waits for food," said Money Morning Chief Investment Strategist Keith Fitz-Gerald. "That's going to dampen margins, not enhance them. Eventually, that translates to earnings which, in turn, hit stock prices."
Franchisees have complained that many of the new initiatives have done nothing to improve McDonald's core values of food quality and customer service.
"The system is very lost at the moment," one franchisee said in response to a survey by Nomura analyst Mark Kalinowski. "Our menu boards are still bloated, and we are still trying to be too many things to too many people. … Things are broken from the franchisee perspective."
Robbins' REIT proposal has problems as well. The McDonald's board is considering it – a final decision is expected soon – but is likely to reject it.
McDonald's is unusual among fast food chains in that it owns 45% of the land its restaurants sit upon and 70% of the buildings themselves. Forming a REIT would provide McDonald's with a big cash infusion up front.
But it would rob McDonald's of the rental income from its franchisees that makes up more than a fifth of the company's revenue. Rental payments have been one of the few bright spots in McDonald's earnings, rising 26% over the past five years.
Robbins said in March that a REIT would trade at a higher multiple than MCD stock. That's no longer valid.
MCD Stock Is Overpriced
The McDonald's price/earnings ratio is over 24 right now. That's well above the five-year average of 17.3. It's also significantly higher than the forward P/E of 20.4. Going by the forward P/E, the price of McDonald's stock should be about $88 – nearly 16% lower than where it is now.
So a REIT would make little difference. And the above-average P/E tells us MCD stock is overpriced. Not good.
The best thing about McDonald's stock at the moment is its generous 3.27% dividend, and even that's in jeopardy. The payout ratio has climbed to 72.3% and will go higher if earnings don't start recovering. The company's 38-year streak of raising its dividend could end next month.
At this point, McDonald's stock has too many flashing lights on its dashboard for investors to consider adding it to their portfolios. Until that gets fixed, it's best avoided.
"The notion of McDonald's as a growth stock is done until they get back in touch with their core branding," Fitz-Gerald said. "Chipotle Mexican Grill (NYSE: CMG) is the better bet here if you're interested in fast food."
The Bottom Line: Just because the McDonald's stock price is hitting all-time highs doesn't make it a buy. The company has a turnaround plan in place, but only part of it shows promise, and even that may yield only tepid growth. The rest of the plan could do more harm than good. Until McDonald's starts to show real progress in tackling its problems, MCD stock is not a buy.
Written By David Zeiler From Money Morning
We're in the midst of the greatest investing boom in almost 60  years.  And rest assured – this boom is not about to end anytime soon.  You see, the flattening of the world continues to spawn new markets  worth trillions of dollars new customers that measure in the billions;  an insatiable global demand for basic resources that's growing   exponentially; and a technological revolution even in the most distant  markets on the planet.  And Money Morning is here to help investors profit handsomely on this seismic shift in the global economy. In fact,  we believe this is where the only real fortunes will be made in the  months and years to come.