War, severe weather and record natural gas production are buffeting energy stock prices. Where can investors turn for safety? In this interview with The Energy Report, Credit Suisse's John Edwards suggests that midstream master limited partnerships, while they have been volatile of late, are fundamentally stable business models, and have less exposure to volatility than explorers and producers. As a bonus, he names his top companies in a rising yield environment. Let's just hope oil stays above $80/barrel.
The Energy Report: Energy stocks have faced a number of headwinds this year—everything from severe weather on the East Coast to conflicts in Eastern Europe and the Middle East to growing oil and gas production in the U.S. Are midstream master limited partnerships (MLPs) immune to the volatility of the commodities they carry?
John Edwards: Midstream MLPs are not immune to price changes, but they have less volatility than other kinds of energy stocks. Let me explain. With most MLPs, the assets are contracted. They're fee-based, so they have minimal direct commodity risk. If MLP clients are not profitable, that will impact demand for the services that the midstream providers offer. So while MLPs don't have direct commodity exposure, they certainly have indirect commodity exposure. A prolonged price slump would ultimately impact the return on upstream companies, and that would subsequently impact the demand for midstream services.
As long as oil prices stay above $80 a barrel ($80/bbl), we think producers will continue to produce as much as they can. If oil prices dip below $70/bbl, there could start to be curtailments. That would have a negative impact on MLPs because it would slow down demand for infrastructure.
TER: You recently stated that compared to the Standard & Poor's 500, MLPs capture market upside swings better, without being as affected by the downside. What causes that?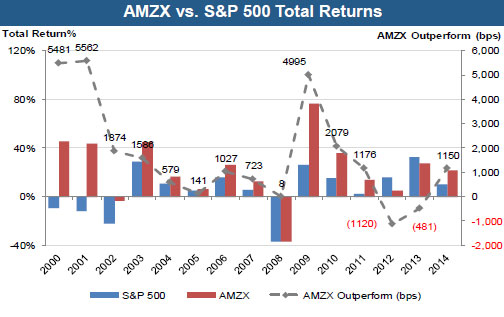 Source: Alerian.com; CS Estimates through Aug. 29, 2014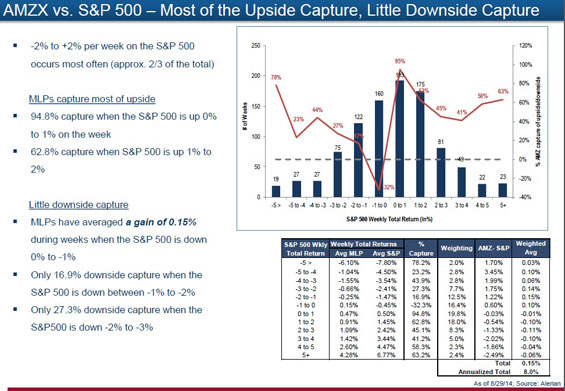 Source: Alerian.com; CS Estimates
JE: During difficult economic times, people curtail purchases that can be postponed, like buying a car or a large appliance, or even eating out. But people are a lot less willing to freeze in their homes in the winter, whether they have income or not. Natural gas and crude oil are more stable in terms of demand than many other products. The bottom line is that the preponderance of long-term contracts results in stable revenues for midstream MLPs.
At the same time, we are in the midst of a technological shift. Demand for crude oil has been flat, despite the economic recovery, due to advances in fuel efficiency. On the other hand, the industry continues to access product in remote areas, thus increasing demand for infrastructure to get the product from where it's produced to where it's consumed. That infrastructure is typically contracted on a fixed fee basis, making the basic economics of that arrangement less volatile than the economy generally. That helps explain why MLPs are less volatile than the broader economic markets.
TER: Are MLPs vulnerable to the impact of sovereign debt and increasing interest rates?
JE: Let's talk about interest rates first. Distributable cash flow for investors is calculated based on earnings before interest, taxes, depreciation and amortization (EBITDA), minus interest expense, maintenance capital and other items. That means when interest rates rise, there is less cash available for paying out distributions. It is that simple.
"MLPs are fee-based, so they have minimal direct commodity risk."
Sovereign debt issues are more of a macroeconomic risk. Almost every financial crisis that has occurred in the U.S.—and for that matter, around the world—stemmed from an overabundance of debt. Today, there is too much debt on the balance sheets of almost every developed country in the world, including the U.S. That poses a rising risk to the overall well-being of the economy, because as long as countries overspend relative to revenue, they are dependent on external capital to finance that spending.
Absent changes in spending and borrowing behavior, Western countries face rising risk in having to pay a lot more to attract capital, particularly if such spending is rising relative to gross domestic product (GDP), just as smaller countries did during the financial crisis of 2009. Ultimately, oil and gas demand are at risk due to the risk of a debt-induced recession, and the pipelines that carry those resources could suffer hits to volume. The U.S. cumulative deficit relative to GDP is at record levels now, though annual deficit has recently come down in both absolute and percentage terms as the recovery has continued, albeit more slowly and at a lower magnitude than anyone would like.
TER: Do you think the market understands MLP fundamentals and is valuing the companies fairly?
JE: Are MLPs overvalued or undervalued? In view of recent volatility, both in the broader market as well as in energy and energy MLPs, that is a very interesting question. Investors have to consider their appetite for exposure to this sector, and what kind of total return they're likely to experience. At the end of August, MLPs were trading at the lowest yields ever. Also, some individual issues may be overvalued or fully valued.
We argued last month that the sector was in the process of undertaking a revaluation due to the strong and visible fundamentals, which may run through the end of this decade. Traditionally, this sector has averaged 6% yields, although it has been up and down over the last few years. By the end of August, the Alerian MLP Index (AMZ:NYSE) was in the low 5% yield range and the Cushing MLP Total Return Fund (SRV:NYSE) was in the high 4% yield range. We argued that there is scarcity value because no other asset class has this combination of solid income potential and strong growth.
"As long as oil prices stay above $80 a barrel, we think producers will continue to produce."
Not long after we made the revaluation or rerating thesis, the MLP sector went through a very volatile few weeks, giving up virtually all the gains it had accumulated during the year, and bottoming out on Oct. 14. The whole energy complex also dropped sharply in response to weakening oil prices and moves by the Saudis to press for market share in the global oil market rather than cut production, as most investors in energy had expected.