The International Energy Agency (IEA) recently released a report titled "Are We Entering a Golden Age of Gas?"
Fortunately, you can actually read this report for yourself. I've included the link to the report at the bottom of this email. (Warning: the report is nearly 130 pages long.)
I haven't read the entire report myself, but I thought I'd go over two of the most interesting themes presented.
For one, the IEA projects that natural gas could rival oil usage on a Metric Tonnes of Oil Equivalence (MTOE) by 2035.
Take a look at this chart that plots world demand for different energy fuels: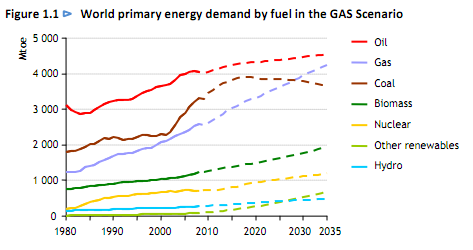 The next time you hear about hydro or other "green" energy technologies, think about this chart. The IEA is arguably the world's leading energy authority – and they're only projecting mild increases in green energy like solar, wind, and geothermal.
Meanwhile, they project natural gas demand will overtake coal(!) by 2030. That projection alone is something of a coup for natural gas.
The brave new world of green energy usage is just not in the cards for the next 20+ years as many progressives would have you believe.
I don't know if the IEA will be found correct in its prediction that gas will overtake coal. What we do know is that reserves have never been this high – while at the same time reserve replacement has scarcely been this low.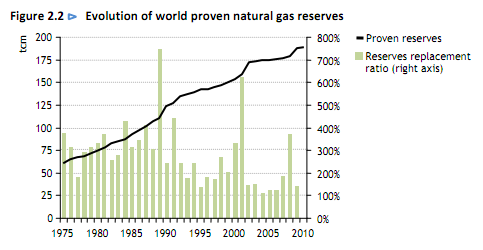 These two metrics placed side-by-side should be an obvious wake up call – that while the market is awash in natural gas, our ability to replenish those reserves is diminishing.
That's a recipe for higher prices if I've ever heard one.
And as I said before, on an energy cost basis natural gas is currently cheaper than gasoline has ever been.
Even with natural gas at the highest price it's been for a year, at $4.75 per thousand cubic feet (MCF), it's much, much cheaper than gasoline.
On an energy cost basis, $5 natural gas is like buying gasoline for 60 cents a gallon – in today's dollars!
The IEA seems to think that natural gas demand will continue to rise for the next 20+ years – ushering in a golden age for the fuel.
If you're interested in investing in natural gas, I urge you to read the report below so you can make informed investment decisions.
http://www.iea.org/weo/docs/weo2011/WEO2011_GoldenAgeofGasReport.pdf
I'd also like to draw your attention to a new special report on natural gas that my friend and colleague Tyler Laundon has put together. It's all about a small group of American natural gas companies that are exploring for (and finding) huge natural gas resources in continental Europe.
It's one of the best research reports on natural gas investments I've ever read, and I think you'll agree.
You can click here now to read more about this European natural gas opportunity.
Tickers: United States Natural Gas ETF (NYSE:UNG), United States 12 Month Natural Gas (NYSE:UNL), iPath DJ-UBS Natural Gas TR Sub-Idx ETN (NYSE:GAZ), First Trust ISE-Revere Natural Gas Idx (NYSE:FCG), iShares Dow Jones US Oil Equipment Index (NYSE:IEZ), Jefferies | TR/J CRB Wildcatters Exploration & Production Equity ETF (NYSE:WCAT).
Good investing, 
Written By Kevin McElroy From Wyatt Research
Kevin McElroy is a top rated commodity researcher and analyst specialist at Wyatt Investment Research, with a targeted focus on short and long term investment opportunities.  He has worked in the investment publishing field for over three years alongside some of the world's leading commodity traders and analysts.  He takes the complex futures and options trading strategies from the floors of the Nymex and the CBOT, uniquely combines them with economic trends and positions his recommendations in a way that any investor, from a straight long-term buy and hold investor to a sophisticated day trader can easily understand, implement, and profit.   
Kevin constantly finds unique ways to profit from the "real stuff" like oil, gold, iron, corn – the energy, money, goods and food that the world constantly needs more of.  Kevin is the daily editor to Resource Prospector and a contributor to Energy World Profits and Global Commodity Investing.
Want More Great Investing Ideas?