David Gillie: If you're not up to joining the adrenaline pumping, shouting crowds in the New York Mercantile Exchange, there's an excellent alternative—United States Oil fund (NYSEArca:USO) does it for you.
When you hear "the price of oil" (or Crude), it's not actually what the price of oil is, but what the price will be and the cost today for those future contracts. The anticipated future price of oil rises and falls on many factors. Most recently, we've seen an exchange of harsh words with Iran. Embargoes, Dollar fluctuations, supply constraints and of course, demand all factor into oil futures contracts.
It would be nearly impossible for the average investor to compile all this data and make a sound investment. Thanks to the world of ETFs, this is done for you and the average investors now has access to commodity futures markets previously the realm of the most elite traders.
United States Oil Fund (NYSEArca:USO) manages oil futures contracts for you:
The holdings in USO are very revealing. This fund has reduced its futures contracts and is now half in cash (which is getting a 3% return). Managers smarter than me (and perhaps you) moved significantly into cash at the recent highs. However, back at the December lows, the futures holdings are far more significant in the composition of this fund. This gives a "smoothing" effect for traders investing in oil futures.
Looking at the performance, we see an unimpressive array of gains and losses. This not necessarily intended as a 'buy and hold' position. This is where your expertise comes in. First, you can work the chart like any other ETF. Secondly, you can watch the holdings of United States Oil Fund for increases or reductions of futures contracts to see where the experts anticipate oil prices going.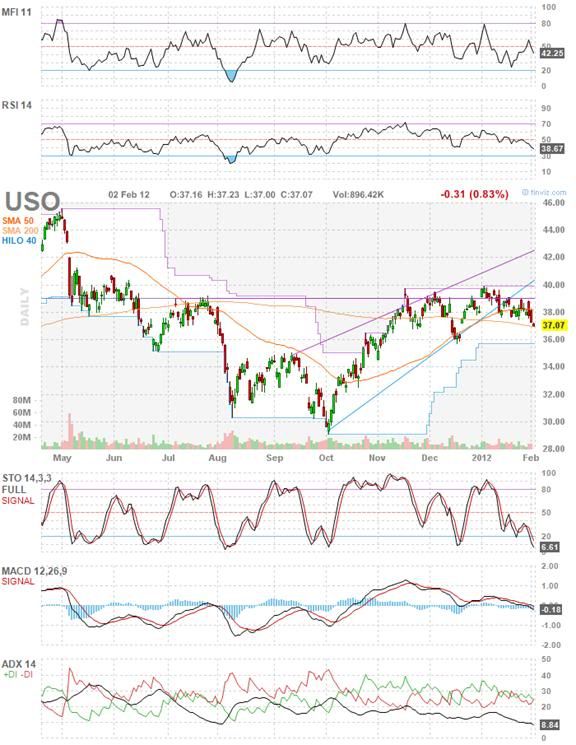 To work the chart of USO, we need to pay close attention to the Stochastics—one of the faster moving indicators—and its relationship to price. We see that the Stochastics is at the December lows, but the price is higher. This is generally bullish long term for USO. But another factor of the Stochastics / price correlation is the previous two highs on Stochastics in November and January, had equal highs on price (around $40). This gives us a ceiling or a strong resistance level. The other indicators confirm a decline, but none are at any extreme levels. Price is currently resting on the 50 day moving average, which hasn't shown to be a reliable support level in the past. However, it does happen to coincide with the November low price.
We are watching two support levels: The November lows around $37 and the December lows around $36. A recovery from the November price level would create an inverse head & shoulders pattern and could break out above the $40 resistance level. If the price retreats to the December lows we could be forming a sideways channel. Actually, the sideways channel is a goldmine for traders. If we see this ETF ping-ponging between $36 and $40 with some reliability, there will be far more money to be made than a breakout and just going up.
Here's why a sideways channel is a goldmine: The simple way is if you buy USO at $36 and sell at $40 you have a 9% gain. It ping pongs in the price channel three or four time you could realize a 30-40% gain when USO may only have a 2% or 3% gain (or loss) over the same time period.
But wait, it gets better! (I feel like I should be saying "If you call in the next 20 minutes…") Should this channel develop, you can increase you profitability (with the same amount of effort) by using the leveraged ETF Proshares Ultra DJ-UBS Crude Oil (NYSEArca:UCO). For the more active traders, there are various ways to use options around this position. A conservative method is selling covered calls at the high levels, essentially taking a profit without selling the shares. You can also buy puts at the highs to get paid as the price goes down. If you decide to sell shares at the top, you can sell puts to give you a designated price to repurchase and lower your cost.
Oil is perhaps the most watched commodity. Shouldn't you be watching it too?
Related Tickers: Devon Energy (NYSE:DVN), Apache Corporation (NYSE:APA), ConocoPhillips (NYSE:COP), Exxon Mobil Corporation (NYSE:XOM).
Written By David Gillie For The ETF Digest Disclosure: I currently own a position in UCO and have recently sold March 17 UCO calls.
ETF Digest writes a subscription newsletter focused on technical  analysis of exchange-traded funds.  ETF Digest was founded in 2001 and  was among the very first to see the  need for a publication that  provided individual investors with  information and advice on ETF  investing.  Even if you're not a fan of  chart analysis, ETF Digest  provides insight and commentary into which  global markets are "working"  and why.