Bill Luby: Since the launch of the Teucrium Commodity Trust Corn Fund ETF (NYSEARCA:CORN) in June 2010, investors who were unwilling to open up a futures account have been able to take long and short positions on corn via the CORN ETF, which holds a basket of corn futures.
Investors who are new to corn or to commodities in general may have been surprised by the big move in CORN, which is up 20% in the past two weeks and 28% over the course of the past month. No doubt they probably believe that the move in CORN (and corn futures) is likely to soon be exhausted.
While CORN/corn may indeed be about to peak, I would urge new arrivals on the commodity scene to study the history of agricultural commodities prices over the years and note that extreme price moves are not uncommon, particularly when unusual weather patterns are involved. The chart below uses monthly bars of corn futures over the course of the last 20 years. Note that while the June-July 2012 move in corn looks impressive, it pales in comparison to the spikes in corn prices that occurred in 1994-1996, 2005-2008 and 2010-2011. In other words, this could be just the beginning of a huge move in corn prices, particularly given that the price move of the last month or so comes on top of a much higher base.
Corn may be putting in a top soon, but a fat-tailed spike is not guaranteed to top out at the prior highs of $8.00 per bushel.
As an aside, if you are going to trade CORN or corn futures, it would certainly help to become a weather guru, but be forewarned that understanding the weather nuances that affect corn prices is no easy task.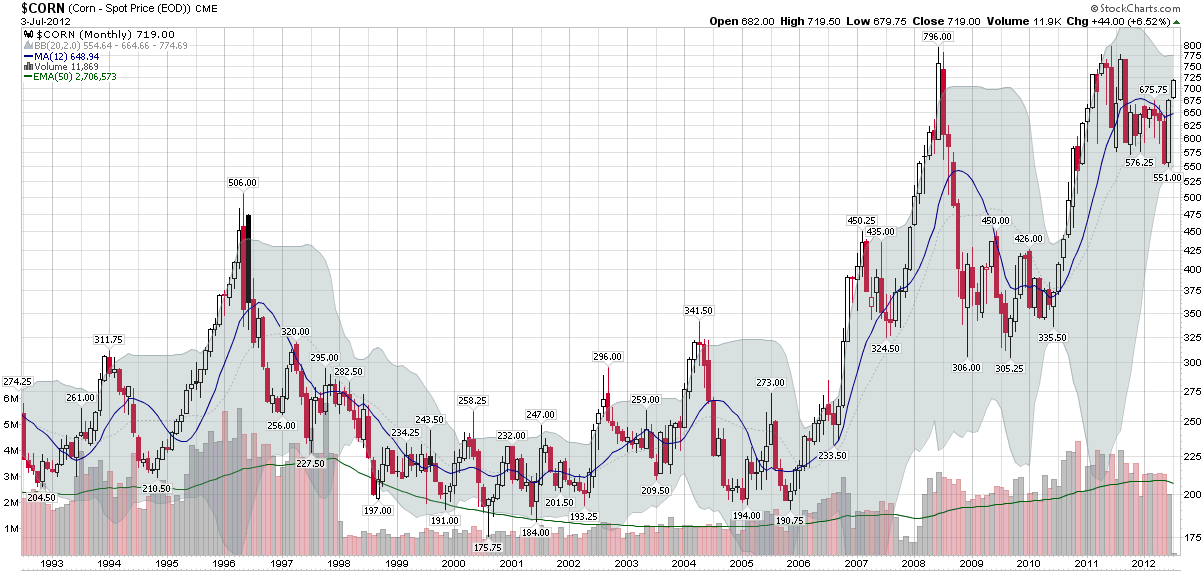 [source(s): StockCharts.com]
Written By Bill Luby From The VIX and More   Disclosure(s): long CORN at time of writing
Bill is a private investor who also authors the VIX and More (http://vixandmore.blogspot.com/) blog and an investment newsletter from just north of San Francisco.  His  research and trading interests focus on volatility, market sentiment, technical analysis, and ETFs. Prior to becoming a full-time  investor, Bill was a businessstrategy consultant for two decades and advised clients across a broad range of industries on issues such as strategy  formulation, strategy implementation, and metrics. When not trading or blogging, he can often be found running, hiking, and kayaking in Northern California.  Bill  has a BA from Stanford University and an MBA from Carnegie-Mellon University.
Want More Great Investing Ideas?