SanDisk is the No. 1 supplier of flash memory in the global supply chain.
It's best known as the supplier of flash memory for Samsung Electronics Co. Ltd.'s (OTCMKTS:SSNLF) smartphones, but SanDisk's products are also found in laptops and all sorts of other consumer and corporate electronics.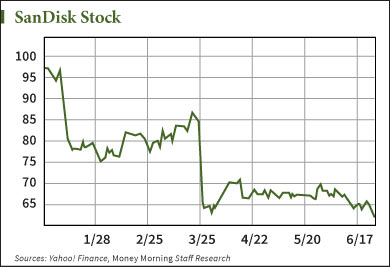 "There's almost no consumer product out there – that needs flash memory – that isn't using SanDisk," Money Morning Defense & Tech Specialist Michael A. Robinson said. "They've been a huge part of a mobile revolution that really gained a lot of steam in 2007 with the release of the first iPhone."
In 2014, Wall Street recognized just how exciting SNDK stock is.
By July of last year, SNDK stock was up 53% in 2014 and trading at $107.83.
It has since collapsed over the last year. It has fallen 43% and erased all of its gains it made in 2014 – and then some. It closed Friday at $62.12 and today (Monday) continues to decline.
One thing that hurt SanDisk stock was weakening smartphone sales for Samsung. And SanDisk has continuously been revising guidance down over the last year, further souring investors on SNDK stock.
But mostly what's contributing to the SNDK stock price decline is a general misunderstanding of where the market for flash and computer memory is headed.
"Globally, there's a lot of confusion about what's happening in computer memories," Robinson said. "In the past, memory has been seen as a commoditized business. That's really changed dramatically in the last two or three years. But as we've seen a lot this year and over the last 18 months, Wall Street just overreacts at the slightest sign of trouble."
It's a similar story for Micron Technology Inc. (Nasdaq: MU), another player in the space. MU stock was up 67.8% in 2014. Since peaking at $36.49 on Dec. 5, 2014, it has fallen 46.1%.
Now investors need to know – can this SNDK plunge be reversed? Is SanDisk stock a buy, sell, or hold?
Here's how you should look at SNDK stock right now…
How to Play SNDK Stock Right Now
There's no denying that in the long term, SNDK stock is an intriguing play.
Flash memory is too important a technology to entirely discount SanDisk stock right now.
"Unlike PCs, smartphones and tablets simply have no space for traditional spinning hard drives," Robinson said. "These units can be made extremely small, the size of a postage stamp. Since they are solid state, there are no moving parts to go haywire should you drop the device."
SanDisk has been made more attractive with its venture capital arm, SanDisk Ventures. SanDisk's top brass knows "that young and hungry companies are bursting with great ideas for new product innovations," Robinson said, and this will allow the company to get a head start on the biggest and most important tech innovations.
"I do like it in the long haul," Robinson said.
But SanDisk earnings are a problem. The company has continued to see weakened guidance from quarter to quarter.
"Last quarter wasn't so good. I think the main concern is lower expectations for the rest of this year, particularly for the second quarter," Robinson said. "I wouldn't get into the stock anytime soon. I'd like to see at least one more quarter of data."
Bottom Line: SNDK stock is a great play on an all-too-important global memory market. But Wall Street is worried, perhaps misguidedly so, on just how troubled the industry is at the moment. You're better off waiting for the end of Wall Street's bearish sentiment on SNDK stock, and that won't happen until SanDisk earnings reveal a positive outlook for forward guidance.
Written By Jim Bach From Money Morning
We're in the midst of the greatest investing boom in almost 60 years. And rest assured – this boom is not about to end anytime soon. You see, the flattening of the world continues to spawn new markets worth trillions of dollars; new customers that measure in the billions; an insatiable global demand for basic resources that's growing exponentially; and a technological revolution even in the most distant markets on the planet.And Money Morning is here to help investors profit handsomely on this seismic shift in the global economy. In fact, we believe this is where the only real fortunes will be made in the months and years to come.