Scott Pluschau: This is for the Japanese Candlestick junkies out there. In the iShares Silver ETF (NYSE:SLV) there was a "Bullish Belt Hold" pattern with confirmation. Knowing Japanese Candlestick's and applying them in the hope they work is a bad idea in my experience. I do not place trades on these signals alone. What I think is important in Japanese Candlestick Analysis and why I appreciate them, is for getting a better understanding of the psychology beneath the auction. The bullish belt hold forms when the direction of the security is down followed by a big gap down from a prior day, such as we had on September 26th, that opens near the low of the day, and price rallies into the close very near the prior day's close in what looks like a very long bodied candle with little or no wicks. I drew a blue oval on the chart.
What this should be telling the trader, is the bears have lost control after that gap down since there was no follow through, and we are seeing positions go from weak hands to strong hands. The market extended itself too far or overreached to the downside and this doubt should creep into the minds of the short traders, thus liquidating their positions before it is too late and fueling a reversal.
One other thing to note is the last four day's trading in SLV we have had big time above average volume. Prior to that we haven't seen a single day since August 25th, 2011 where volume in SLV was above its 50 day simple moving average.
I would like to see a close above yesterdays high which should have the bears feeling trapped down below.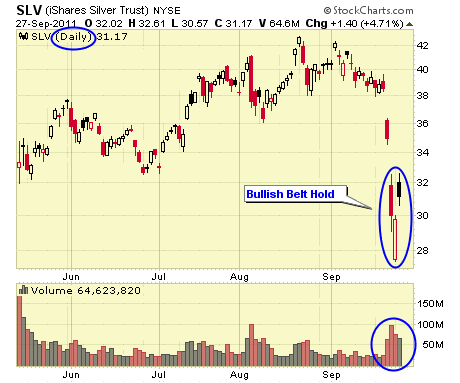 Related ETFs: Sprott Physical Silver Trust (NYSE:PSLV), ProShares Ultra Silver (NYSE:AGQ), PowerShares DB Silver (NYSE:DBS), ProShares UltraShort Silver (NYSE:ZSL), iShares Silver Trust (NYSE:SLV).
In full disclosure I do not have a position in SLV, but I am long Silver futures.  Comments are welcome [email protected]
Written By Scott Pluschau From ETF Digest
Scott was a financial advisor with Citi. His technical analysis report was recently featured by Dr. Marc Faber on the Nasdaq Composite Index in his June 1, 2011 Gloom Boom & Doom report. Scott earned his degree in Accounting and Taxation from Pace University. He lives in Long Island with his wife Ilona, daughter Olivia and new baby Henry.
ETF Digest writes a subscription newsletter focused on technical analysis of exchange-traded funds. ETF Digest was founded in 2001 and was among the very first to see the need for a publication that provided individual investors with information and advice on ETF investing.  Even if you're not a fan of chart analysis, ETF Digest provides insight and commentary into which global markets are "working" and why.
Want More Great Investing Ideas?