Chris Ciovacco: The financial markets have been treading water for weeks hoping the political process will bear something resembling fruit. Monday stayed on the "little in the way of progress" script. From Reuters:
The White House on Monday reiterated that President Barack Obama would not negotiate with Republicans over the threat of a debt default, sticking to its line as stock prices fell and a government shutdown moved into its second week.
Republicans Shift Focus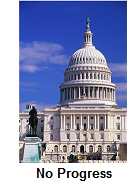 While continuing with the "we have to get something" approach, the Grand Old Party has shifted from Obamacare to a conversation about swelling deficits. From Bloomberg:
House Speaker John Boehner said Obama needs to start a conversation about the drivers of the country's debt — entitlement programs such as Medicare and Social Security — before he could pass a measure increasing the debt ceiling.
Indecisive Markets
With little movement from either side in Washington, the markets have drifted into an understandably indecisive state. This week's video shows what we'll be watching as the October 17 debt ceiling deadline approaches.
After you click play, use the button in the lower-right corner of the video player to view in full-screen mode. Hit Esc to exit full-screen mode.


Investment Implications
When markets are indecisive and dependent on political outcomes, it is helpful to draw some lines in the sand as risk management reference points. Traders use the 50-day moving average to monitor the health of the market's intermediate-term trend.
Want More Great Investing Ideas?