Chris Ciovacco: Stocks rallied to kick-off the holiday-shortened week on better than expected economic news. From Bloomberg:
The Institute for Supply Management's (ISM) manufacturing index increased to 50.9 in June from 49 a month earlier, the Tempe, Arizona-based group said today. The median forecast of 85 economists surveyed by Bloomberg called for the measure to rise to 50.5. A reading of 50 is the dividing line between expansion and contraction. Another report from the Commerce Department showed construction spending increased 0.5 percent in May.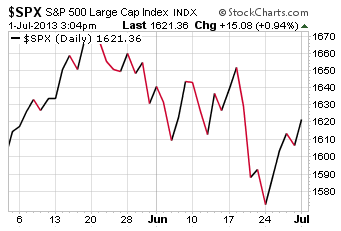 Hurdles From Fed and Technicals
If you read between the lines of last week's speech from Fed Governor Jeremy C. Stein, it is fair to say the odds are high the Fed has already decided to taper the bond purchase program at the September meeting. Below is an important portion of Governor Stein's speech, which seems to say "we have enough data in hand."
A key point is that as we approach an FOMC meeting where an adjustment decision looms, it is appropriate to give relatively heavy weight to the accumulated stock of progress toward our labor market objective and to not be excessively sensitive to the sort of near-term momentum captured by, for example, the last payroll number that comes in just before the meeting. In part, this principle just reflects sound statistical inference–one doesn't want to put too much weight on one or two noisy observations.
The technicals described in this week's video seem to reflect the expectation from market participants that a tapering announcement is coming this fall.
After you click play, use the button in the lower-right corner of the video player to view in full-screen mode. Hit Esc to exit full-screen mode.


Japan Provided A Spark
Investors seemed to put the concerns about Fed policy on the back burner Monday. Instead they chose to focus on the ISM number and some better news from the Land of the Rising Sun. From Bloomberg:
In Japan, the quarterly Tankan index showed positive sentiment among large manufacturers for the first time in seven quarters. The measure rose to 4 in June from minus 8 in March, the Bank of Japan said. A positive figure means that optimists outnumber pessimists. Economists had predicted a reading of 3.
Bulls Face Overhead Resistance
The question going forward for investors is whether improving economic data can offset concerns about the Fed tweaking their bond purchase program. In addition to concerns about Fed policy, the bulls also have three areas of possible resistance to deal with during the remainder of the week. In the chart of the S&P 500 (INDEXSP:.INX) below, the widely-followed 50-day moving average is shown in blue (see point A). Downward-sloping trendlines (B & C) also may act as resistance giving traders a reason to lighten up. The 50-day moving average currently sits at 1623. A move above 1642 would be required to clear both trendlines A and B.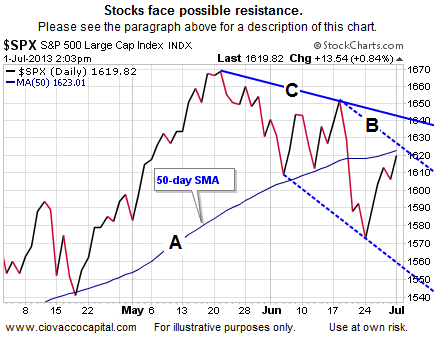 Investment Implications
As long as the S&P 500 remains below the key levels noted above, we will err on the side of maintaining a well-above average cash position. A weekly close above both 1623 and 1642 would increase our openness to redeploying some cash into stronger areas of the market, such as small-caps (NYSEARCA:IWM), mid-caps (NYSEARCA:MDY), banks (NYSEARCA:KBE), and biotech (NASDAQ:IBB).
This article is brought to you courtesy of Chris Ciovacco from Ciovacco Capital.