Chris Ciovacco:  The S&P 500 has been regarded as a relative "safe haven" given:
The high probability of a default by Greece.
Concerns debt markets will focus on Italy next.
Weakening economic data in Europe.
On the morning of September 13, German stocks rallied strongly, but the S&P 500 seemed a bit more hesitant. If under-performance of the S&P 500 relative to German stocks continues for a time, it may be an ominous sign for U.S. stocks and safe haven sectors, such as consumer staples (NYSE:XLP). Recently, the S&P 500's performance relative to German stocks reached the top of the pink trend channel shown below (see point C).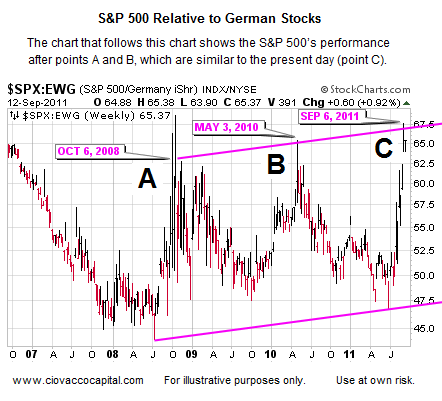 Compare points A and B in the charts above and below.
The charts of the U.S. and Germany align well with our concerns relative to a possible deflationary signal given by the U.S. Dollar Index last week. As mentioned in our recent look at the U.S. dollar, we continue to watch the relative performance of inflation-friendly assets:
Silver (NYSE:SLV)
Agriculture (NYSE:DBA)
Copper (NYSE:JJC)
Australian Dollar (NYSE:FXA)
and deflation-friendly assets:
Short S&P 500 (NYSE:SH)
U.S. dollar (NYSE:UUP)
Long-Term Treasuries (NYSE:TLT)
Intermediate-Term Treasuries (NYSE:IEF)
If the inflation assets hold up well vs. the deflation assets, it gives hope to the bulls. If inflation assets, such as the Australian dollar, become increasingly weak vs. deflation assets, such as the U.S. dollar, it is another bearish signal, in an increasingly long-list of negative developments, for the economic/market bulls.
The market's current risk-reward profile and present debt market conditions do not bode well for the S&P 500 maintaining safe haven status. As shown in the charts of the 2008 bear market below, safe haven markets tend to be a temporary phenomenon in the context of a bear market.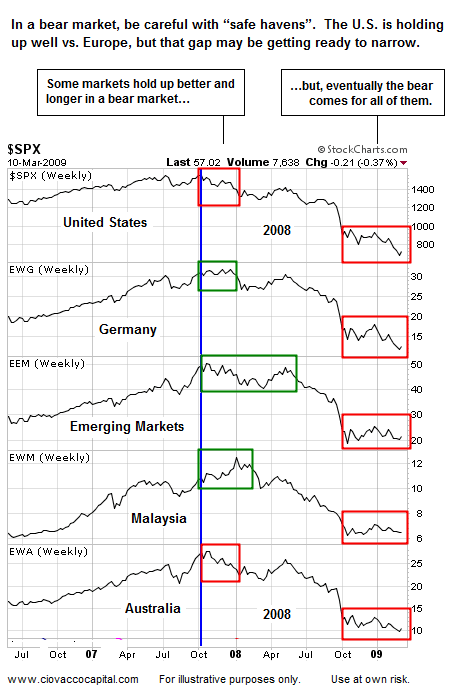 Investors who have been told "you will be fine" in defensive sectors or "tried and true" stocks may want to brush up on their bear market history.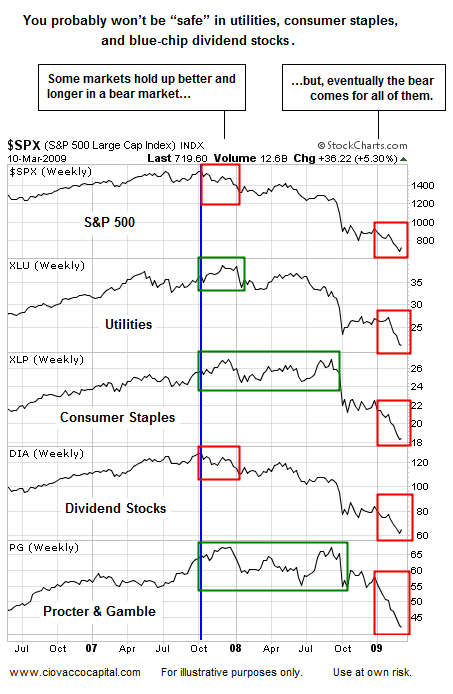 The current state of the S&P 500 is fragile at best. Last week, the CCM Bull Market Sustainability Index (BMSI) dropped into a range that typically means the bears have overtaken the bulls in terms of probable outcomes – said another way, the odds are against the S&P 500 overtaking the spring 2011 highs relative to the S&P making new lows in the months ahead.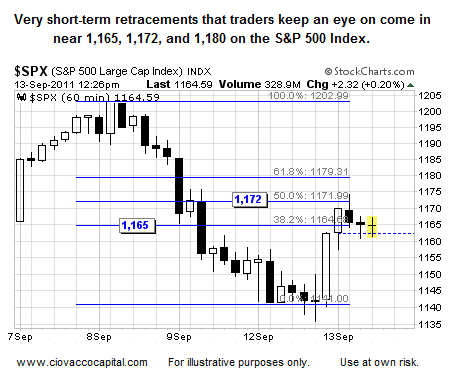 In terms of our deflationary stance, we may add to our shorts (NYSE:SH) and/or small position in the dollar (NYSE:UUP) if we see reversals near the levels shown above. We would feel more comfortable relative to the probable next leg down in stocks if the S&P 500 closes below 1,140 (1,146 is also a good step). On the upside (above 1,172), the several pockets of potential resistance sit between 1,174 and 1,195, with 1,180 being a very reasonable level to revisit.
Written By Chris Ciovacco From Ciovacco Capital Management, LLC
Chris Ciovacco began his investment career with Morgan Stanley in Atlanta in 1994. With a focus on global macro investing, Chris uses both fundamental and technical analysis to assist in managing risk while looking for growth opportunities around the globe in all asset classes. If you are looking for an independent money manager or financial advisor, Ciovacco Capital is worth a look. Chris graduated from Georgia Tech with Highest Honors earning a degree in Industrial and Systems Engineering in 1990. His experience in the professional ranks began in 1985 as he began working as a co-op for IBM in Atlanta.
Ciovacco Capital Management, LLC (CCM) is an independent money management firm serving clients nationwide. By utilizing extensive research, disciplined risk management techniques, and a globally diversified approach, CCM prudently manages investments for individuals and business owners. Our focus is on principal protection and purchasing power preservation in an ever-changing global investment climate.