David Zeiler: For months, Wall Street insiders have passed this chart around amongst themselves and nervously discussed whether it foretells a major stock market sell-off.
The chart compares the path of the current Dow Jones Industrial Average (INDEXDJX:.DJI) over the past year and a half to the Dow's moves over the 1928-1929 period.
While the Dow is trading at a much higher level now than in the 1928-1929 period, the pattern is eerily similar to the path that led to the worst stock market crash in Wall Street history, right up to the recent stock market sell-off and recovery.
Tom DeMark, the founder and chief executive officer of DeMark Analytics, was the first to see the pattern last fall and create the chart – which was laughed off by many market veterans. He told Marketwatch that at first it was "for entertainment purposes only," but that "now it's evolved into something more serious."
What has people worried now is what the pattern shows will happen next.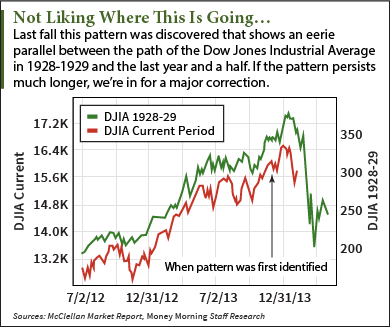 After the brief recovery from a similar stock market sell-off in 1929, the Dow Jones nosedived 33% in a hellish two-week span. That stock market crash eventually took the Dow 89% below its peak.
"While investment history doesn't necessarily repeat itself, it does rhyme," hedge-fund manager Doug Kass of Seabreeze Partners said of the chart in an email to Marketwatch.
Every day the pattern persists, fewer traders on Wall Street are amused.
But investors don't have to lose sleep at night if they take these steps to prepare…
Want More Great Investing Ideas?