Chris Ciovacco: If you are relatively new to the investing world, you may not have a realistic reference point to understand how painful stock market corrections can be.
A trip down the memory lane of market corrections (1982-2014) reminds us of what a typical year in the stock market can look like.
On the surface, the 2014 stock market is holding up relatively well, but the picture behind the risk-reward curtain is concerning at best.
Even if a corrective episode is averted in the short run, it is only a matter of time before the correction-less investment fantasy land comes to a painful end.
The Vulnerability Box
The S&P 500 closed at 1,833 on December 24, 2013. It closed at the same 1,833 on April 10, 2014, or over three months later. Common economic sense and the law of supply and demand tell us that when stocks stop making bullish progress, bullish economic conviction is losing ground to bearish economic concerns. The previous sentence also tells us the market's risk-reward profile has been deteriorating since late December 2013.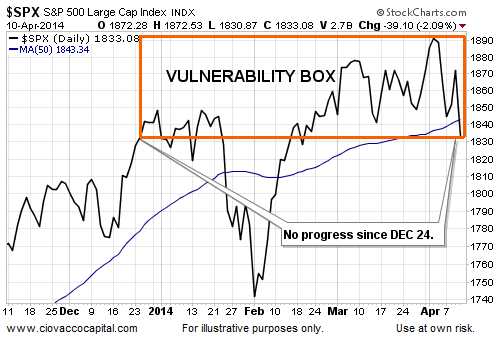 Bank Earnings Not Helping
What can push a vulnerable market over the edge? Answer: when the net interpretation of all the new information is bearish. One piece of new data that is adding weight to the bearish side of the scale is earnings from JP Morgan Chase (JPM). From The New York Times:
JPMorgan Chase reported an 18.5 percent slump in first-quarter earnings on Friday, as the nation's largest bank grappled with dual challenges: sluggish revenue from trading and lackluster mortgage lending. Both issues, broadly buffeting the banking industry, damped profits at JPMorgan.
A Trip Down Correction Memory Lane
Since weekends offer an opportunity to study markets and improve our approach to investing, it may be helpful to take a quick refresher course on stock market corrections. We will focus on two questions:
How far can stocks drop?
How long can corrections last?
Sample of Corrections 1982-2014
In 1984, stocks dropped 14.63%. Unlike the multiple-day pullbacks in 2013, this correction lasted two hundred and eighty-eight calendar days (288).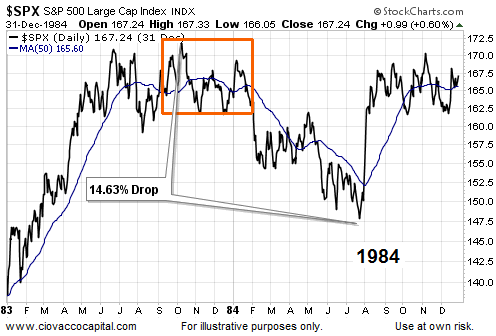 The 1987 stock market crash occurred within the context of a bull market, and the bull market resumed relatively quickly.
Want More Great Investing Ideas?