David Fry:  As one of the four BRIC countries (Brazil, Russia, India, China), with a quickly developing economy and an average growth rate at nearly 9% per year, India might look like an ideal investment opportunity. The country of more than a billion people has made several moves to open itself up to foreign investment and liberalize its economy, including the privatization of publicly held companies, industrial regulation improvements, and capital market reforms. While more-developed economies were swooning during the 2008 financial crisis, India still managed a respectable 6% growth rate.
The Bombay Stock Exchange (BSE Sensex) was trading at a 3-week high last week before tumbling on news from the Indian commerce ministry last Wednesday that wholesale price index inflation had risen a higher-than-expected 6.95% over last year. It was the first time India's monthly inflation rate had grown in the preceding five months. The losses probably would have been more severe if the Reserve Bank of India hadn't announced a 75 basis point cut for its cash reserve ratio rate on banks.
Still, Indian exchange traded products have performed well in 2012, registering gains of as much as 40% since the beginning of 2012 before pulling back last week.
The WisdomTree India Earnings Fund (NYSEARCA:EPI) tracks the WisdomTree India Earnings Index (WTIND). It is by far the most liquid of India ETFs, with an average daily volume of 2.6 million. According to the fund's website, the index is weighted fundamentally and "measures the performance of companies incorporated and traded in India that are profitable and that are eligible to be purchased by foreign investors." Its top three holdings are Reliance Industries Ltd at 7.62%, Infosys Ltd at 7.1%, and Tata Motors Ltd at 5.64%. It is most heavily concentrated in Financials (26.46%) and Energy (17.88%). EPI has a very high expense ratio of 0.83%.
Although it is much less liquid, with a daily average volume of just 106k, the iPath MSCI India Index ETN (NYSEARCA:INP) is another viable option for investors. It tracks the MSCI India Total Return Index, "a free-float-adjusted market capitalization index designed to measure the market performance, including price performance and income from dividend payments, of Indian equity securities." INP has similar but different allocations, with 8.89% in Reliance Ltd, 8.76% in Infosys Ltd, and 6.24% in Housing Development Finance. Its top sector allocations are Financials (28%), Information Technology (15%) and Energy (12.8%).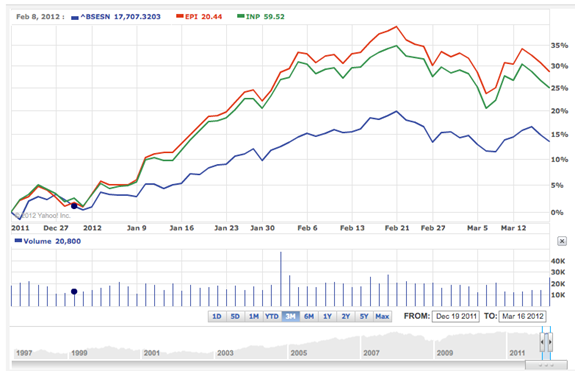 EPI (red) and INP (green) have performed very similarly, with INP slightly underperforming EPI. EPI's year-to-date gains briefly touched the 40% mark in late February. In blue, the Bombay Stock Exchange (BSE Sensex).
Written By David Fry From ETF Digest
David is founder and publisher of ETF Digest and best selling book author of Create Your Own ETF Hedge Fund, A DIY Strategy for Private Wealth Management published by Wiley Finance in 2008.  In July of  2009, Fry was named in the ETF Hall of Fame as one of the Top 25  people who revolutionized the ETF industry and guided ETF investing from its conception to widespread acceptance among all breeds of investors. Fry founded the ETF Digest in 2001 and was among the very first to see the need for an online publication that provided  individual investors and financial professionals with trading tools, market information and actionable advice on ETF investing. ETF  Digest was recently ranked 9th in the Top 100 ETF websites from Alexa on exchange traded funds. Dave Fry has devoted over 35 years to the business of trading and  portfolio management. He is registered as an  arbitrator with the  Financial Industry Regulatory Authority (FINRA)  and the National Futures Association (NFA).