At first glance, silver investment activity in August would have you believe that bearish sentiment is pervading the sector. The premier silver ETF, iShares Silver Trust (NYSE Arca: SLV), which is backed by physical bullion held in the vaults of JPMorgan Chase & Co. (NYSE:JPM) in New York and London, fell $0.87, or 4.4% to $18.71. A close alternative, the ETFS Physical Silver Shares (NYSE: SIVR) dropped $0.97, or 4.8% to $19.19.
The bid price of 24-hour spot silver last month fell 4.5%, or $0.92, to $19.46 an ounce. This was silver's worst-performing month on the year after March, when the white metal slid 6.9%.
Additionally, silver futures – contracts promising the future delivery of silver at a set price – lost 4.8% or $0.98, falling to $19.49 on the month.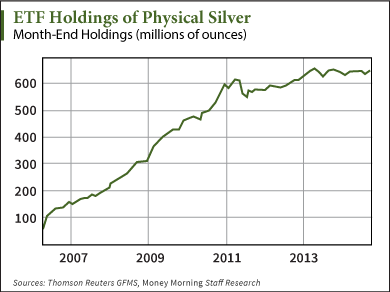 August's silver price performance was worse than July's, when the price of silver fell 2.8% in a month that has averaged returns of 4.2% over the last decade.
July saw the big ETFs backed by silver shed physical holdings by 1.2 million ounces, or 0.2%, according to data from Thomson Reuters GFMS. This was a reversal from the first half of the year when silver ETFs had added more than 7 million ounces in the first six months of the year and prices declined accordingly.
But silver investments charted a different course in August…
Investors Go Long on Silver
August saw all silver ETFs add more than 8.9 million ounces of the physical product to their portfolios.
That is more than the 6 million ounces that were added in the first seven months of the year, signaling a strong shift in attitude for the investors managing these holdings.
This boost to silver ETF holdings is a good sign for the white metal because it signifies long-term confidence in the future price of silver.
Contrast that with the more liquid futures markets, where contracts backed by millions of ounces of silver are traded without the actual delivery of physical bullion every day.
Contracts change hands in an instant. The activity is more reflective of speculators trying to make a quick buck playing short-term movements in the silver market than them expressing confidence that silver is a sound investment.
Buying physical silver is more than just a quick trade.
"Such a strong gain, despite price weakness especially in the last two months, signals that physical silver ETF holders are not selling," said Money Morning Global Resource Specialist Peter Krauth. "For some it could be a hedge position, but it's more likely that most holders are 'investors' taking a long-term view, and expect higher silver prices in the future."
Written By Jim Bach From Money Morning
We're in the midst of the greatest investing boom in almost 60 years. And rest assured – this boom is not about to end anytime soon. You see, the flattening of the world continues to spawn new markets worth trillions of dollars; new customers that measure in the billions; an insatiable global demand for basic resources that's growing exponentially; and a technological revolution even in the most distant markets on the planet.And Money Morning is here to help investors profit handsomely on this seismic shift in the global economy. In fact, we believe this is where the only real fortunes will be made in the months and years to come.