Jim Bach: Don't let the August performance of silver ETFs fool you – there's a big buy signal for silver flashing right now…
At first glance, silver investment activity in August would have you believe that bearish sentiment is pervading the sector. The premier silver ETF, iShares Silver Trust (NYSE Arca: SLV), which is backed by physical bullion held in the vaults of JPMorgan Chase & Co. (NYSE:JPM) in New York and London, fell $0.87, or 4.4% to $18.71. A close alternative, the ETFS Physical Silver Shares (NYSE: SIVR) dropped $0.97, or 4.8% to $19.19.
The bid price of 24-hour spot silver last month fell 4.5%, or $0.92, to $19.46 an ounce. This was silver's worst-performing month on the year after March, when the white metal slid 6.9%.
Additionally, silver futures – contracts promising the future delivery of silver at a set price – lost 4.8% or $0.98, falling to $19.49 on the month.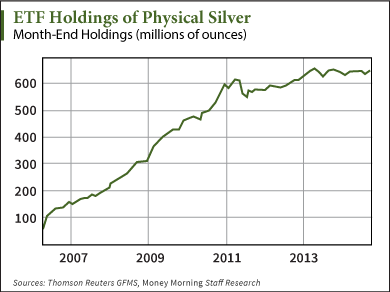 August's silver price performance was worse than July's, when the price of silver fell 2.8% in a month that has averaged returns of 4.2% over the last decade.
July saw the big ETFs backed by silver shed physical holdings by 1.2 million ounces, or 0.2%, according to data from Thomson Reuters GFMS. This was a reversal from the first half of the year when silver ETFs had added more than 7 million ounces in the first six months of the year and prices declined accordingly.
But silver investments charted a different course in August…