Thomas Carreno: The PowerShares DB US Dollar Index Bullish ETF (NYSE:UUP) is down about a half a percent today and is once again breaking down from a rising bearish flag that was under construction over the last several weeks.
I have been watching both the UUP ETF and the US dollar index occasionally to see if there are any signs that it wants to build a base and get a sharp move higher.
So far it has done anything but that.  The US Dollar Index has continued to drift down and exhibit general weakness.  I am just not seeing any clear signs of a huge longer term upside reversal.
The very long term monthly candlestick chart of the US Dollar index shows that once again the US Dollar is sitting on the precipice of potentially very high cliff.  It must hold support near the current range during the next two months or it will risk getting a downside break through of this very large symmetrical triangle pattern.
That potential downside breakthrough could have dramatic (longer term) implications for inflation and commodities.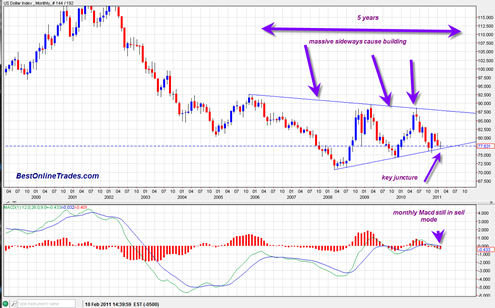 Despite the Federal Reserve and Bernanke talk that there is no inflation and despite the recent cost cutting discussions on the political channels, the chart above shows that IF we do get a downside break through below the 70 level on the US Dollar index, then we are going to see a likely inflation wave that builds more and more momentum.  But this is already probably apparent to most. (BestOnlineTrades constructed a very long term chart of inflation using the MACD several weeks ago and it clearly indicates that we will see a surge of inflation during the next two years).  I mean it is apparent to most in the USA at least that prices are rising and cumbersome, whether it be food or fuel.  But what may not be so readily apparent is the possible surging higher of prices even from current levels.
The chart of the US dollar index seems consistent with a possible blow off upside move in the gold and silver price. 
But at this time I cannot say with conviction that the US dollar index is going to bust down through this large pattern.  It looks probable to me, but I want to see some more price action.
When I look at the price chart above I start to think that if we get a downside break through there may be riots again, but this time they will not be in Egypt, they will be in the good ole US of A because of spiraling inflation.
Written By Thomas Carreno From Best Online Trades 
I started Best Online Trades because I really enjoy trading and I also enjoy writing about trading.  Writing about trading or trading strategies helps transfer thoughts that would otherwise stay in 'theory' and helps move them to more concrete form for me. And hopefully along the way you will pick up something useful as well.  BestOnlineTrades covers many different aspects of trading, from commodities to stocks, from indices to ETF's.