Chris Ciovacco: As of 2:30 p.m. EST Thursday, the S&P's weekly scorecard still reflected a loss of 11 points, meaning the outcome for the week will most likely be determined by the market's reaction to the always-obsessed-about monthly labor report. From CNN/Money:
Snowstorms, big annual revisions and the end of benefits for the long-term unemployed could give a distorted picture of the job market when January's labor report comes out Friday. Economists surveyed by CNNMoney are predicting 178,000 jobs were created last month. That would be a big improvement from December's shockingly low 74,000 jobs. Meanwhile, they predict the unemployment rate will remain at 6.7%. But wild cards like bad weather, yearly revisions and the end of federal jobless benefits, have economists on edge about their predictions.
Can Investors Participate During Market Advances?
When markets peak, it is logical to assume that investor demand for stocks begins to drop relative to (a) more conservative assets, such as bonds, or (b) risk-off assets, such as inverse stock ETFs (aka shorts). The charts below show how monitoring the demand for longs (SPY) vs. shorts (SH) can assist us with managing risk while attempting to profit from a rising stock market. This video clip describes how the ratio of longs vs. shorts below helped identify the favorable risk-reward environment that existed in 2006 as the S&P 500 gained 17% between point A1 and B1. The short explanation is when the demand for longs is greater than the demand for shorts, it indicates bullish economic conviction is greater than bearish economic conviction. During periods of bullish economic confidence, the ratio below rises, which it did in 2006 when the S&P 500 tacked on 17%.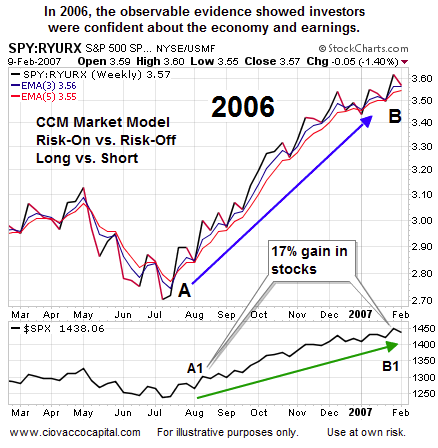 How Does The Same Chart Look In 2014?
Even with Thursday's rally in stocks factored in, the present day look of the long vs. short ratio aligns with "risk-off", telling us that the bulls still have some work to do. The most important thing on a weekly chart is the "read" at 4:00 p.m. EST Friday, which means the jury has not returned a verdict yet.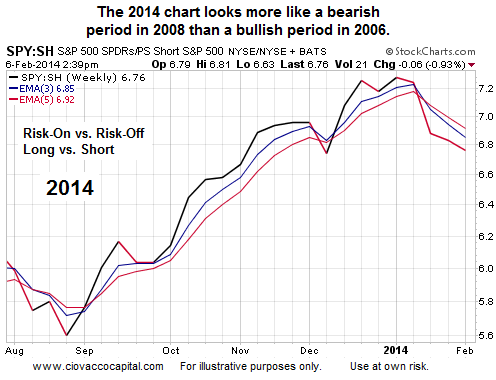 How Did The 2014 Ratio Above Look In 2008?
This video clip describes how the ratio of longs vs. shorts below helped identify the unfavorable risk-reward environment that existed in 2008 as the S&P 500 experienced a 12% loss in June, and another 38% drop in Q4. Unlike 2006, economic conviction in 2008 was clearly lagging economic fear during the periods where the S&P 500 dropped (the ratio was also in a bearish downtrend).