The demand fundamentals for silver are more than sound – the white metal is getting a big endorsement from the industrial side right now.
Expected production growth in certain industries means an additional 20 million ounces of demand by 2018, according to the Silver Institute. Metals Focus predicts silver demand to outpace GDP growth from 2014 to 2016.
But as far as investment demand goes, an almost three-month sell-off has sent silver prices to four-year lows. Silver is down as much as 23.3% from its peak earlier in the year.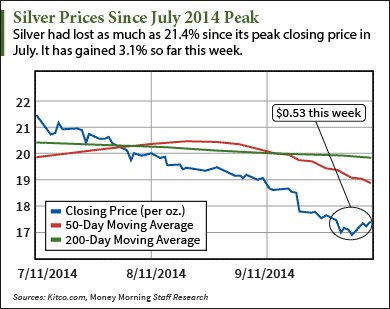 That's why silver bulls have been buying…
In September, silver exchange-traded funds (ETFs), which hold physical silver and sell shares to investors at a price reflecting price movements in their holdings, grew their holdings of silver bullion by 12.2 million ounces, according to Thomson Reuters GFMS. This was the biggest single monthly increase since August 2013.
In fact, close to 80% of the holdings ETFs have added this year came in just the last two months. August and September accounted for 21 million total ounces of 2014's 27 million ounces added.
And as ETFs begin to bulk up their physical silver portfolio, the broader market will begin to catch on and push silver prices up. In this past week, silver prices have climbed $0.525 to $17.38 an ounce as of the markets' close yesterday (Wednesday). They climbed as high as $17.83 this morning.
It may be too early to say if this is the start of a silver bull run, but there is a sign that this small rally has legs…
What Can Help This Silver Price Gain Stick
Any sudden jump in silver prices, such as the one the white metal is in now, can very easily precede a much larger rally.
This is because the silvers futures market shows that short-side speculators, who are holding contracts betting on a slide in silver prices, are in a very precarious position.
As of the most recent reporting period, silver speculators held 256.7 million ounces of silver in short positions, represented by 51,344 contracts.
This is the highest volume of speculators on record for silver. The last record was reached in early June, when 244.9 million ounces were held short through 48,984 contracts.
At this level, silver short contracts are either at a peak or are very close to topping out.
When silver ETFs begin purchasing physical silver and add to the demand, especially in the volumes they have been in the past two months, they'll put upward pressure on prices. As silver inches higher, it'll be less profitable for speculators to take short positons.
In many cases, short sellers are going to want to exit their current position to lock in the gains they've already managed from silver's precipitous decline since the summer.
To close out a position, short sellers will need to buy long. They will exit their positons in droves and add to the buying spree.
This so-called "short squeeze" will be an added jolt to the upward price movements seen this week, and could pull silver to new benchmarks that will attract a deeper bull run.
It's too early to say whether this quick jump early in the week is indicative of a more bullish sentiment on silver, but it's an encouraging turnaround. Silver has fallen every week for the past five weeks, and finished in the red the last 11 out of 12 weeks.
"While we could get a 'pop' in the silver price, it's difficult to read it right now," said Money Morning Resource Specialist Peter Krauth. "Charts are messy. It definitely looks oversold and due to bounce."
Written By Jim Bach From Money Morning
We're in the midst of the greatest investing boom in almost 60 years. And rest assured – this boom is not about to end anytime soon. You see, the flattening of the world continues to spawn new markets worth trillions of dollars; new customers that measure in the billions; an insatiable global demand for basic resources that's growing exponentially; and a technological revolution even in the most distant markets on the planet.And Money Morning is here to help investors profit handsomely on this seismic shift in the global economy. In fact, we believe this is where the only real fortunes will be made in the months and years to come.