A second reason for cutting the IOER answers some of the criticisms the Fed has taken for its asset-buying programs called quantitative-easing: Doing so would stimulate the economy without increasing the size of the Fed's balance sheet. In fact, the Fed could probably shrink its balance sheet.
Reserve Chatter Says Aggressive Taper Unlikely
If Fed governors were confident about the economy and on the cusp of announcing a sharp reduction in their monthly bond purchases, why were they talking about additional ways to stimulate the economy in the minutes released on November 20? The answer is they are not confident about the economy, and therefore are unlikely to aggressively taper. The previous statement does not rule out a December taper by any means, but it does tell us to keep an open mind about how long QE will last.
Investment Implications – Observable Deterioration
Our market model started redeploying cash on October 10 (see green arrow in chart below). The S&P 500 has made very little progress since mid-November, which speaks to slowing bullish momentum (see pink line). The observable evidence has deteriorated enough to warrant an incremental reduction in our exposure to stocks; a move that was made Wednesday. If the S&P 500 fails to hold the pink line near 1780, there are three areas of possible support not too far below, telling us buyers may surface in the days ahead. Therefore, we will continue to hold our positions in U.S. stocks (SPY), technology (QQQ), financials (XLF), energy (XLE), China (FXI), and Europe (FEZ). With a Fed meeting next week, volatility may continue short-term.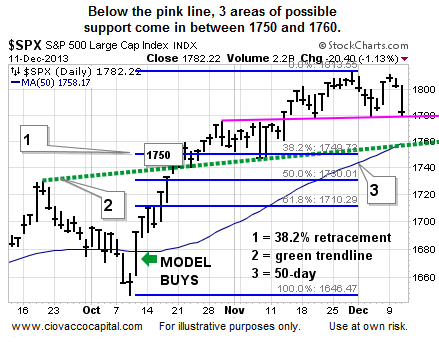 Fed governors are also concerned a tapering announcement will cause investors to run for the stock and bond exits, similar to 1994. While an announcement of charging banks a fee on excess reserves may not be imminent, it is important for us to know it is being considered and why it is being considered.
This article is brought to you courtesy of Chris Ciovacco from Ciovacco Capital.
Want More Great Investing Ideas?