Tara Clarke: After falling more than 75% from its initial public offering (IPO) price and more than 45% year to date, Groupon Inc stock (NASDAQ:GRPN) could finally be rallying back.
Overnight, GRPN stock was upgraded from "Neutral" to "Buy" by brokerage firm B. Riley. Shares in the daily deal coupon company gained more than 6% pre-market this morning (Tuesday) following yesterday's close at $6.45 per share.
B. Riley said it predicts a technical comeback for GRPN stock.
"Our upgrade rests a lot on management delivering on their promise, which we feel is achievable based on our sensitivity analysis," B. Riley analyst Sameet Sinha said, according to Market News Call. "Several management initiatives – including increased marketing, more efficient fulfillment, and technology deployment – should be getting traction."
Further reasons given were that the company is about to enter an easier period of year-over-year comparisons, and that operational improvements are predicted to increase organic growth and expand margins.
Along with the rating upgrade, the firm raised Groupon's price target from $6 to $9.50. B. Riley's adjustment quickly followed its recent price target slash of Groupon from $8 to $6 in a note the firm issued in May. Deutsche Bank also rates Groupon stock a "Buy," with a price target of $8. In total, analysts' average price target of GRPN stock now sits at $9.50 per share.
Today's rating change – and pre-market rally – is another notch for Groupon stock's recent signs of a turnaround…
What's Behind Groupon Stock's (Nasdaq: GRPN) Recent Success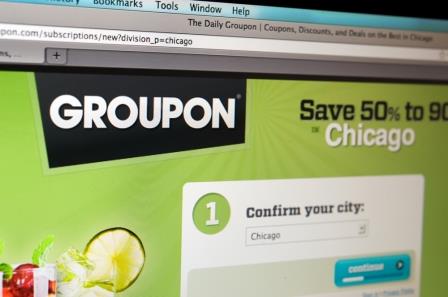 Groupon beat Wall Street expectations in its first quarter 2014 earnings report released May 6. It reported a $0.01 per share loss, exceeding consensus predictions of a $0.03 loss.
Revenue was up 26% compared to the same quarter a year before and reached $757.60 million, beating estimates of $738.40 million. This marked the third time GRPN managed to top Wall Street estimates in the past six quarters – it's also met them twice and missed once.
"We had a record quarter in terms of demand, with worldwide billings increasing 29% and reaching their highest level ever," Groupon Chief Executive Officer Eric Lefkofsky said in the Q1 2014 results announcement. "Our marketplace continued to gain traction and growth in our mobile business accelerated, with more than 10 million app downloads this quarter and mobile transactions reaching 54% in March."
Groupon's mastery of mobile is one of two main parts of the company's recent success…
You see, the mobile industry is booming, replacing a slowing PC industry. More than 56% of Americans are smartphone users, according to Pew Research in 2013. The number of U.S. mobile coupon users will rise from 12.3 million in 2010 to a projected 53.2 million in 2014, according to eMarketer.