After almost three months of freefall, during which time silver prices fell 21.4% and touched off four-year lows, prices finally reversed direction and traded up last week.
It had fallen 11 of the 12 weeks prior and had been down for five consecutive weeks.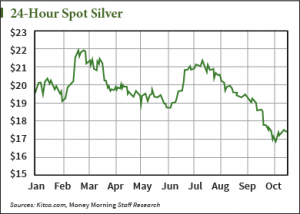 Spot silver traded at $17.365 an ounce when markets closed yesterday (Thursday), down only $0.03 on the week.
This is a week just after silver traded up $0.54, or 3.2%. It hasn't traded up that much since late June.
So what's fueling this reversal?
What's Stemming Further Declines in Silver Prices?
There are a number of factors helping contribute to silver's turnaround.
The most obvious is the pessimism sweeping through the broader markets, on Ebola fears and concerns of a market correction.
The Dow Jones Industrial Average has erased all its gains on the year, and at yesterday's close was down 7.2% from its peak, closing at 16117.24. A market correction is often defined as a 10% decline.
Similarly the S&P 500 has been down almost 8% and is getting very close to erasing all its gains on the year.
Alternative investments, such as precious metals, tend to attract interest from investors when markets panic. It's looked on as a hedging vehicle that retains value against falling equities.
It also is looked on to protect against a weakening dollar, which has become the case in the last two weeks as well.
After hitting 14-month highs on Oct. 3 of 86.82, the U.S. Dollar Index had fallen 2.1% to 85.04.
The third factor pushing up silver prices was a reversal in the silver futures market of short-side speculation.
On Sept. 30, speculators were short on 256.7 million ounces of silver, the largest volume of short contracts on the white metal on record, according to data from the U.S. Commodity Futures Trading Commission.
But as prices inched up and silver traded at four-year lows, traders going short began to take profits and cover their positions by buying long. In the week to follow, short sellers liquidated their positions to the tune of 12.3 million ounces, providing more buyers to help buoy prices on the week.
Silver also received a boost from institutional investors. Silver exchange-traded funds (ETFs) added 12.2 million ounces of physical silver to their holdings in September, the biggest monthly increases since August 2013, according to Thomson Reuters.
With all these factors helping push silver up, the question now is: Why are silver prices flat this week?
Why Silver's Flat This Week
The best explanation for that is simply the volatility of the market.
After coming off highs in mid-September, the markets have seen triple-digit declines only to see triple-digit increases the next day. It was not until last Thursday's 334.97-point drop that a more entrenched slump settled in.
But even today, markets have climbed 300 points going into the afternoon, meaning Wall Street has yet to go all in on a full market correction.
The violent swings in the market seem to signify great fear on the trading floors, but not yet enough to propel silver to a more substantial bull run.
However, the confluence of factors that include falling confidence in equities, a weakening dollar, an inevitable high volume of short covering, and a coming correction should fare well for silver in the coming weeks.
It just has yet to fully settle in and allow silver to achieve much more than flat returns. Nonetheless, this sideways trading is certainly more welcome than the consistent, significant declines the white metal has suffered over the last few months.
Written By Jim Bach From Money Morning
We're in the midst of the greatest investing boom in almost 60 years. And rest assured – this boom is not about to end anytime soon. You see, the flattening of the world continues to spawn new markets worth trillions of dollars; new customers that measure in the billions; an insatiable global demand for basic resources that's growing exponentially; and a technological revolution even in the most distant markets on the planet.And Money Morning is here to help investors profit handsomely on this seismic shift in the global economy. In fact, we believe this is where the only real fortunes will be made in the months and years to come.