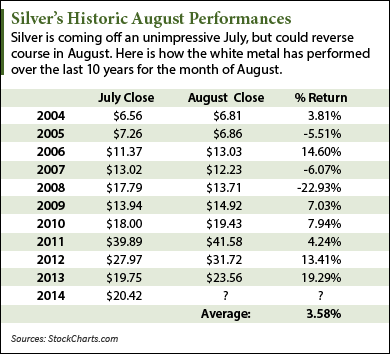 One reason for a rosy silver price forecast for August is that the white metal has finished up every year in this month for the last five years, averaging a return of 10.4%.
In the last 10 years, silver has finished up seven times and averaged a 3.6% month-long return. The last two years have been even better – silver tallied double-digit gains in August, with an astounding 19.3% surge in 2013.
July traded down this month, with silver slipping 3%. In 2010, when silver lost 3.8% in July, it rebounded with a strong August, netting 7.9% returns. Silver is also up about one dollar, or 5% this year, providing for a high ceiling and a lot of upside potential.
"With silver only up slightly year to date, I think odds are good we'll see it gain some ground in August," said Money Morning Resource Specialist Peter Krauth. "We could well see trading pick up this month."
Last year, trading volume increased by 65.1% in August and is most likely going to pick up significantly because July is historically a slow month as the markets settle into the summer doldrums.
Even though silver prices lost a little more than 3% in July, a month where silver has been up an average 4.2% over the last ten years, silver's decline shouldn't come as a big surprise given the peculiar June rally silver experienced and the unusual market factors under-girding June's 14% surge.
Record Speculation Leads to Unheard Of June Gains
This June was something of an outlier.
Over the last 20 years, June had never returned a double-digit percentage increase in silver prices until 2014's 11.9% figure. In fact, on average, the last 20 years have seen 1.4% declines in silver prices on the month. And in June last year, silver plunged 12%.
But the beginning of June 2014 saw speculators betting against silver in numbers that haven't been seen before.
On June 3, data from the U.S. Commodity Futures Trading Commission's Commitments of Traders report showed that non-commercial traders – also known as speculators – had staked out about 49,000 short positions on silver. This was the third record-setting week in a row.
But at the same time, silver was experiencing a punishing bear cycle. After topping out in late February with closing prices above $22, silver plummeted 15% and prices were dipping below $19 an ounce. As traders saw silver bottoming out, they rushed out of their short positions and renewed long purchases, giving silver a sustained lift.
It also helped that U.S. Federal Reserve Chairwoman Janet Yellen, following a Federal Market Open Committee (FOMC) meeting, maintained her stance that interest rates would remain low for a "considerable" period. When interest rates stay low for too long, and stimulative central bank policy continues to flood the economy with money, investors begin fearing inflation and will flock to precious metals as a hedge against the potential of a weakening dollar.
On the day of the Fed meeting, silver prices shot up 4.3%.
Unexpectedly Hot June Sets Path for Slow July
It's no surprise that this unprecedented rally had traders looking to lock in profits at three-month highs, making the 3% decline mostly a function of natural market processes.
"I have to say that I do think this is simply the market's healthy process of profit taking," Krauth said, "In the grand scheme, not a very big deal, as that's less than 5%."
And the sell-off was also felt in funds linked to the price of physical silver.
Over the last 12 months, silver ETFs had added 13.7 million ounces to their total holdings for a 2.2% increase, according to analyst data from Thomson Reuters GFMS. This was a reversal from the first half of 2013, when these ETFs shed 5.2 million ounces for a 0.8% decrease.
But despite silver getting a strong endorsement from ETFs going into 2014, July saw a slight trimming in holdings of about 10,000 ounces. This was after ETFs boosted their physical silver portfolios by about 7 million ounces in the first six months of the year.
For silver to begin to catch steam, Krauth said it's important that it hits $22, which it briefly brushed up against in February before languishing in the three months to follow. That will serve as an important bullish indicator that could attract more investment and lift prices even higher.
The price of silver will need to advance about 8% in August to reach this important benchmark. Last year it gained 19.3% on the month, and in 2012 it shot up 13.4%. Krauth isn't certain that silver will get there just yet.
"I'm not sure silver will be able to break through the critical $22 level in August, but I think odds are good it will do so this fall," Krauth said.
And the momentum built from that could carry prices to the $24 level not long after, Krauth added.
Written By Jim Bach From Money Morning
We're in the midst of the greatest investing boom in almost 60 years. And rest assured – this boom is not about to end anytime soon. You see, the flattening of the world continues to spawn new markets worth trillions of dollars; new customers that measure in the billions; an insatiable global demand for basic resources that's growing exponentially; and a technological revolution even in the most distant markets on the planet.And Money Morning is here to help investors profit handsomely on this seismic shift in the global economy. In fact, we believe this is where the only real fortunes will be made in the months and years to come.