Jim Bach:  Silver prices may have had an unremarkable July, trading down 3%, but if recent history is any indication, August could help steer prices in the right direction and draw in the bulls.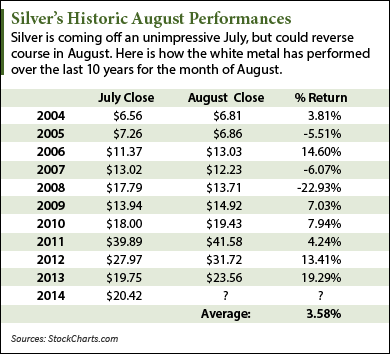 One reason for a rosy silver price forecast for August is that the white metal has finished up every year in this month for the last five years, averaging a return of 10.4%.
In the last 10 years, silver has finished up seven times and averaged a 3.6% month-long return. The last two years have been even better – silver tallied double-digit gains in August, with an astounding 19.3% surge in 2013.
July traded down this month, with silver slipping 3%. In 2010, when silver lost 3.8% in July, it rebounded with a strong August, netting 7.9% returns. Silver is also up about one dollar, or 5% this year, providing for a high ceiling and a lot of upside potential.
"With silver only up slightly year to date, I think odds are good we'll see it gain some ground in August," said Money Morning Resource Specialist Peter Krauth. "We could well see trading pick up this month."
Last year, trading volume increased by 65.1% in August and is most likely going to pick up significantly because July is historically a slow month as the markets settle into the summer doldrums.
Even though silver prices lost a little more than 3% in July, a month where silver has been up an average 4.2% over the last ten years, silver's decline shouldn't come as a big surprise given the peculiar June rally silver experienced and the unusual market factors under-girding June's 14% surge.