But even if someone brought an end to this pig virus tomorrow, we would still be facing a very serious food crisis in this nation.
The reason for this is the multi-year drought which is crippling farming and ranching in much of the western half of the country.
As you can see from the latest U.S. Drought Monitor update, the drought shows no signs of letting up…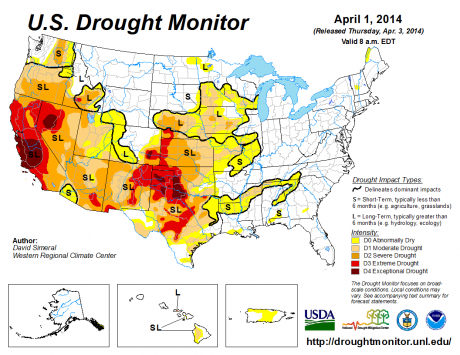 Hopefully this drought will end soon.
But I wouldn't count on it.
In fact, CBS News recently interviewed one scientist that says that the state of California could potentially be facing "a century-long megadrought"…
Scientist Lynn Ingram, author of "The West without Water: What Past Floods, Droughts, and Other Climatic Clues Tell Us about Tomorrow," uses sediment cores inside tubes to study the history of drought in the West.

"We've taken this record back about 3,000 years," Ingram says.

That record shows California is in one of its driest periods since 1580.

While a three-to-five-year drought is often thought of as being a long drought, Ingram says history shows they can be much longer.

"If we go back several thousand years, we've seen that droughts can last over a decade, and in some cases, they can last over a century," she says.
So what will we do if this drought just keeps going and going and going?