Tyler Laundon: The housing market (NYSEARCA:IYR) still has a lot of room to run.
It is true that in the first quarter of this year, home prices shot up by 10% as compared to Q1 2012 (Q2 numbers will be out this month). Historically speaking, that's a huge jump. And that was the fifth consecutive year-over-year quarterly increase.
But the S&P/Case Shiller U.S. National Home Price Index shows that on a national level, housing is still in the early stages of a recovery (see chart below).
As of the last quarterly reading, the average national home price is up 8.7% from the March, 2011 low. But prices are still an average of 28% below where they were in at the peak of the housing bubble in June of 2006, when this index hit an all time high of 190.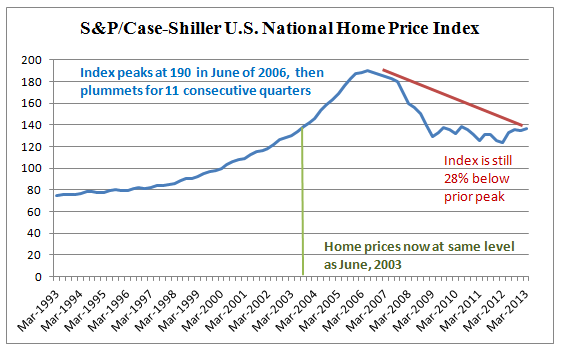 This means that on a national level home prices are barely back to where they were in June of 2003. It truly has been a "lost decade" for the housing market.
But now there is a new source of momentum helping to power the recovery. Technology – and the Internet in particular – is now a crucial part of the buying and selling process.
This reality may have crept up on many investors. While the housing market was in free fall, internet-based real estate stocks weren't attracting a lot of attention.
But as this market recovers, web-based real estate stocks Trulia (NASDAQ:TRLA), Market Leader (NASDAQ:LEDR), Zillow (NASDAQ:Z), HomeAway (NASDAQ:AWAY) and Tree.Com (NASDAQ:TREE) are capitalizing on the opportunity.
So what do these companies do?  They leverage technology to provide valuable information to homebuyers, renters, real estate professionals and advertisers in ways only imagined a decade ago.
Attractive home prices, record low interest rates and record housing affordability may be driving the rebound. But these web and technology companies are enabling it.
Potential buyers now expect to have all the information about a particular listing, as well as local taxes, crime rates, education options