India has the second-fastest growing GDP in the world behind China. Last week Morgan Stanley said India might overtake China as the fastest growing economy by 2015, and could reach a growth rate of 9.5 percent between 2011 and 2015.
The South Asian country is expected to double infrastructure and add six times more workers than China over the next 5 years. Morgan Stanley economist Chetan Ahya said, "…there will be a clear divergence of growth rates between the two countries". He projects India will add 136 million workers by 2020, compared to China's 23 million workers.
Manmohan Singh, the Prime Minister of India, says the government plans to double its spending on ports, roads, and power plants between 2012 and 2017. This will most likely lead to an increase in workers and salaries, which will help boost growth in the economy.
***With India's growth rate accelerating so fast, it's worth looking at small cap investment opportunities in the country. One of the easiest ways to gain exposure is through an ETF, and now there's one that offers exposure to small cap stocks in this overlooked market.
The Emerging Global Shares Index Small Cap ETF (NYSE:SCIN) was recently launched in July. It invests in 75 publically traded companies in India with market caps between $100 million and $2 billion. This is a great play that focuses more on consumer demand for domestic products rather than exports to already developed countries.
Regarding the ETF, Richard Kang, CIO and director of research at Emerging Global Advisors, says, "There are only four Indian ETFs out there, we are the fifth one and we are the only one that focuses on small-caps".
Existing Indian ETFs including iPath MSCI India Index ETN (NYSE:INP), Powershares India (NYSE:PIN), and iShares S&P India Nifty 50 Index (Nasdaq:INDY) all target large-cap stocks in India. But (NYSE:SCIN) is the only one that gives investors pure exposure to high-growth small cap stocks.
The chart below shows the ETF's strong performance over the last month and a half. Since its inception date on July 7 (NYSE:SCIN) it has returned 8.4 percent.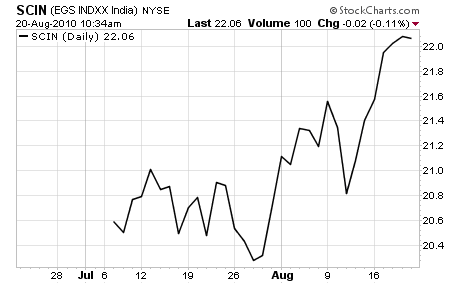 This could be a great place to put your money if you're looking to get some broad-based international exposure, but still stay within the small-cap investing sphere. With bond returns so low, and uncertainty rampant in many sectors of the U.S. economy, emerging market small caps could continue to outperform developed markets.
The ETF has an expense ratio of 0.85 percent, which is slightly higher than most ETFs. It is heavily invested in commercial banks, IT services, and software – check out the weightings of the top five sectors below.

This second chart further breaks down its allocation of funds. It shows the company's top ten holdings as of June 30.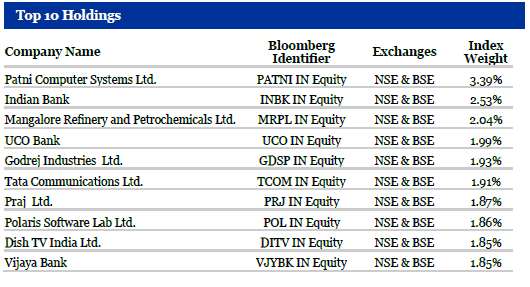 I like this ETF and will continue to follow its performance in coming weeks. It's a great option for people who want to invest in small-cap companies in other areas around the world – but don't want to have to pick single stocks or deal with buying on a foreign exchange.
For those of you who love ETF investing, my team just put together a report which includes three of the best commodity ETF's out there. These guys aren't small cap ETFs, but they have been strong performers and are great if you're an ETF investor in larger market cap companies. You can get this report here.
Written By Ian Wyatt From Wyatt Investment Research
Wyatt Investment Research is led by founder Ian Wyatt, who serves as Publisher and Chief Investment Strategist. Our team also includes a group of talented research analysts and editors who aim to uncover great investments and present those investment ideas to our growing group of loyal subscribers.
Ian Wyatt is an active investor, a well-regarded investment expert and an Internet entrepreneur. He is the Chief Investment Strategist at Wyatt Investment Research, and plays a leading role in each of the company's investment newsletters and trading services. As a well-regarded market expert, Ian has written for Marketwatch, Zacks Investment Research, Seeking Alpha, Yahoo! Finance and The Burlington Free Press. He has been interviewed or quoted in articles in well-known publications including AOL Finance Blogging Stocks, Kiplinger's Personal Finance Magazine, Barron Magazine, Barrons.com, Forbes.com, The Dick Davis Digest, The Dick Davis Income Digest, The Wall Street Transcript, TheStockAdvisors.com, Money Show Digest, The New Jersey Star Ledger, The Wisconsin State Journal and The Seattle Times.