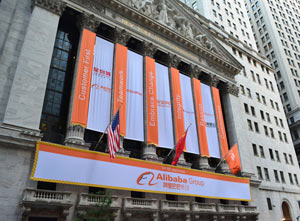 Yahoo officials had planned to spin off 384 million shares of Alibaba Group Holding Inc. (NYSE:BABA) in what would have been a tax-free transaction.
However, the IRS informed Yahoo executives yesterday (Tuesday) that the deal would be rejected.
While the deal was rejected, the IRS never explicitly said the deal will be taxable, however.
The Alibaba spin-off was designed to return cash to Yahoo shareholders.
Naturally, they have reacted negatively to the rejected spin-off news.
Yahoo stock was down 2.2% yesterday and opened at $30.40 today.
Alibaba stock has dropped 38.7% in 2015, greatly reducing the value of Yahoo's Alibaba spin-off.
When Yahoo officials first announced the plan for the deal, it would have been worth nearly $40 billion.
Yahoo's General Counsel Rob Bell said in a filing this week that Yahoo "will continue to carefully consider the company's options, including proceeding with the spin-off transaction."
Any taxes placed on the Alibaba spin-off would likely total billions of dollars.
That would greatly reduce the amount of cash returned to shareholders.
In 2014, YHOO stock climbed 25.6%.
The growth was largely fueled by Yahoo's massive position in Alibaba.
But including Tuesday's drop, shares of YHOO are now down 38.5% in 2015 thanks to market volatility and worries about Alibaba.
Brought To You Courtesy of Kyle Anderson
We're in the midst of the greatest investing boom in almost 60 years. And rest assured – this boom is not about to end anytime soon. You see, the flattening of the world continues to spawn new markets worth trillions of dollars;new customers that measure in the billions; an insatiable global demand for basic resources that's growing exponentially; and a technological revolution even in the most distant markets on the planet. And Money Morning is here to help investors profit handsomely on this seismic shift in the global economy. In fact, we believe this is where the only real fortunes will be made in the months and years to come.